POW3R DIGITAL | November 10 - 11, 2020Microsoft BI Meets IBM i
Learn from the best, meet leading solution providers and benefit from the concentrated knowledge of speakers and experts.
Organized by ITP-VERLAG and COMMON Deutschland e.V., impulses and quick wins are passed on in cooperation with IBM specialists Education-Sessions and Face-2-Face Meetings.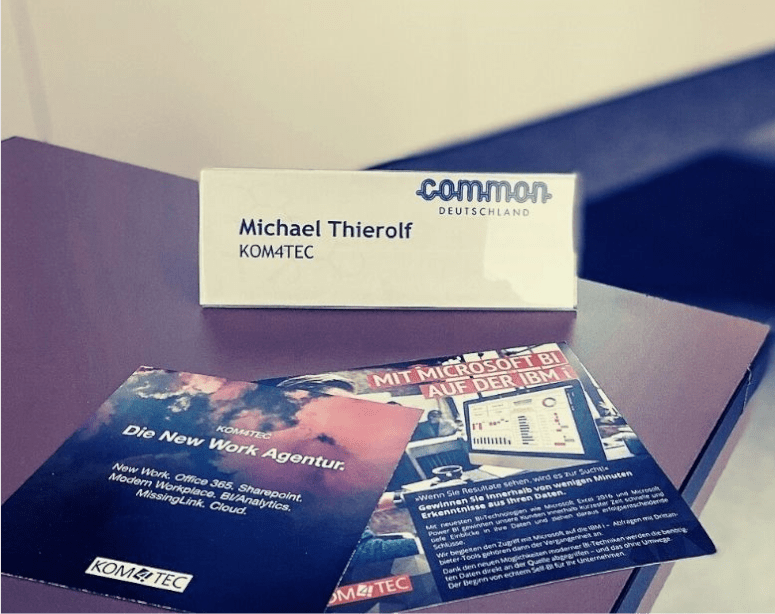 KOM4TEC EDUCATION SESSION
The KOM4TEC Analytics Team demonstrates the linking of state-of-the-art Microsoft Standard Tools with proven IBM i technology in order to digitize and automate existing processes.
The Microsoft Power Platform creates new perspectives regarding process efficiency with innovative tools. In this way, proven processes can not only be digitized, but also rethought and optimized.
We explain the known challenges of process digitization and at the same time show ways to solve these hurdles with Microsoft standard tools.
From data retrieval and preparation with Power BI, to data enrichment using PowerApps, to management-ready reports, all facets of the synergetic connection of Microsoft and the world of IBM, there's a lot to see in our live demo.
STRATEGIC OR OPERATIONAL - THERE'S SOMETHING FOR EVERYONE HERE
Networking is a top priority at POW3R. For users and IBM experts, this is the ideal platform to exchange modernization strategies, software developments and use cases. By the way, COMMON members pay only 50% for attending the education sessions.