INITIAL SITUATION
We recently had another assignment with a Power BI customer from the logistics industry. The customer uses Power BI to create various reports in controlling and in the area of logistics itself and approached us with the desire to further optimize and sharpen existing reports (logistical evaluations such as warehouse movements). The challenge was to meet the customer's requirements sufficiently and to extend the logistical evaluations with individual calculations.
IMPLEMENTATION
In a short preparation meeting, we defined together with the customer how the reports should be improved and extended with our support. The main focus here was on various calculations that enable a better comparison of the warehouse movements on a temporal level. Another important point for the customer, the integration of the shift models of the different warehouse locations should also be implemented in the upcoming workshop.
POWER BI SUPPORT IN WORKSHOP FORMAT
In the workshop, several calculations could then be integrated within approx. 4 hours, which enable the comparability of the analyzed stock movements on a weekly and monthly level. Among other things, these were visualized in the form of absolute values as so-called KPI tiles. The desired layer model could also be implemented. The shifts can now be maintained manually and assigned to the individual stock movements via the respective location ID. Thus, it can be determined in which layer the respective booking was made.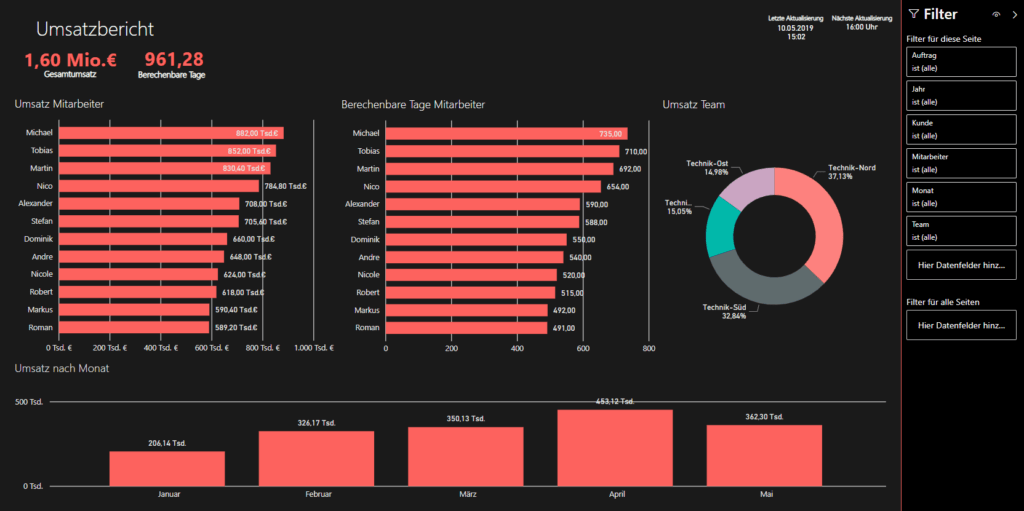 Furthermore, the workload of the individual areas and employees was analyzed. This is done both in the form of a ring diagram and in the form of a matrix. The matrix clearly presents the information from the individual areas. In this case, the target and actual working hours of the individual employees are shown, and the utilization is calculated as a percentage.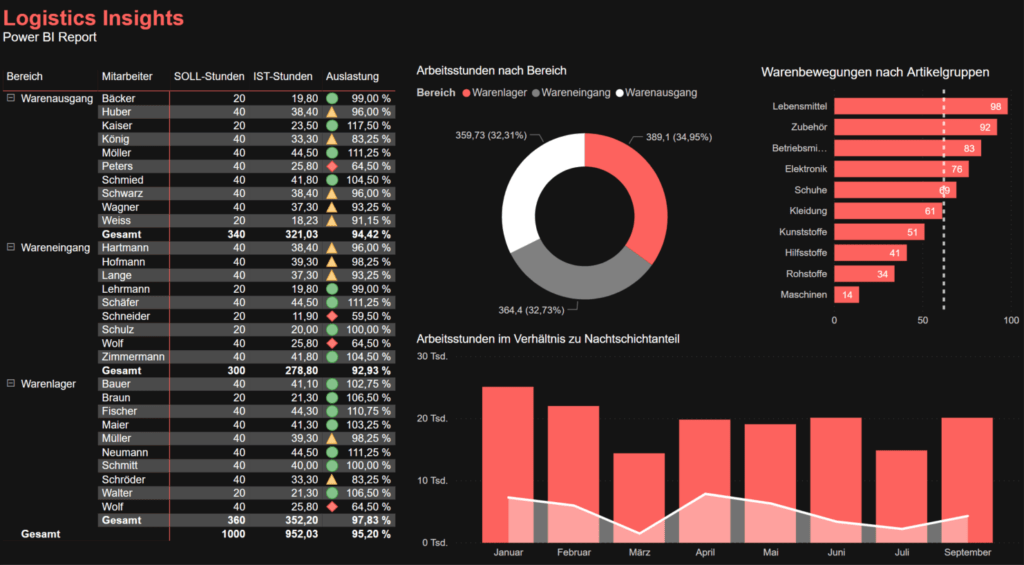 CONCLUSION
In the workshop, the desired enhancement of the report was created together with the customer. In addition to the pure implementation, the workshop also served as a knowledge transfer between us as a service provider and the customer. A comparability of the analyzed stock movements on a weekly and monthly level was created for the customer and visualized in meaningful dashboards.
With the help of the detailed analysis, a more precise control as well as a better planning within the individual areas or shifts can take place. This naturally leads to better cost control and, ideally, to a reduction in costs and more efficient operation.